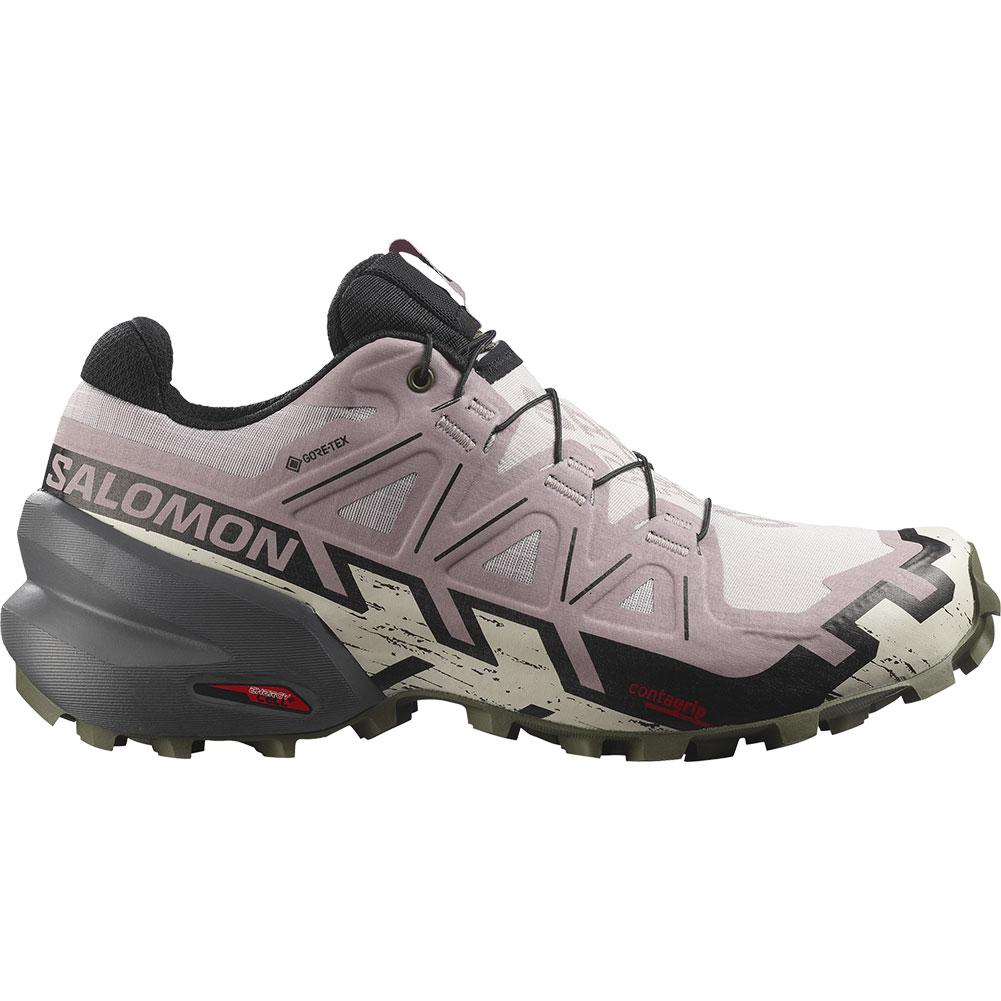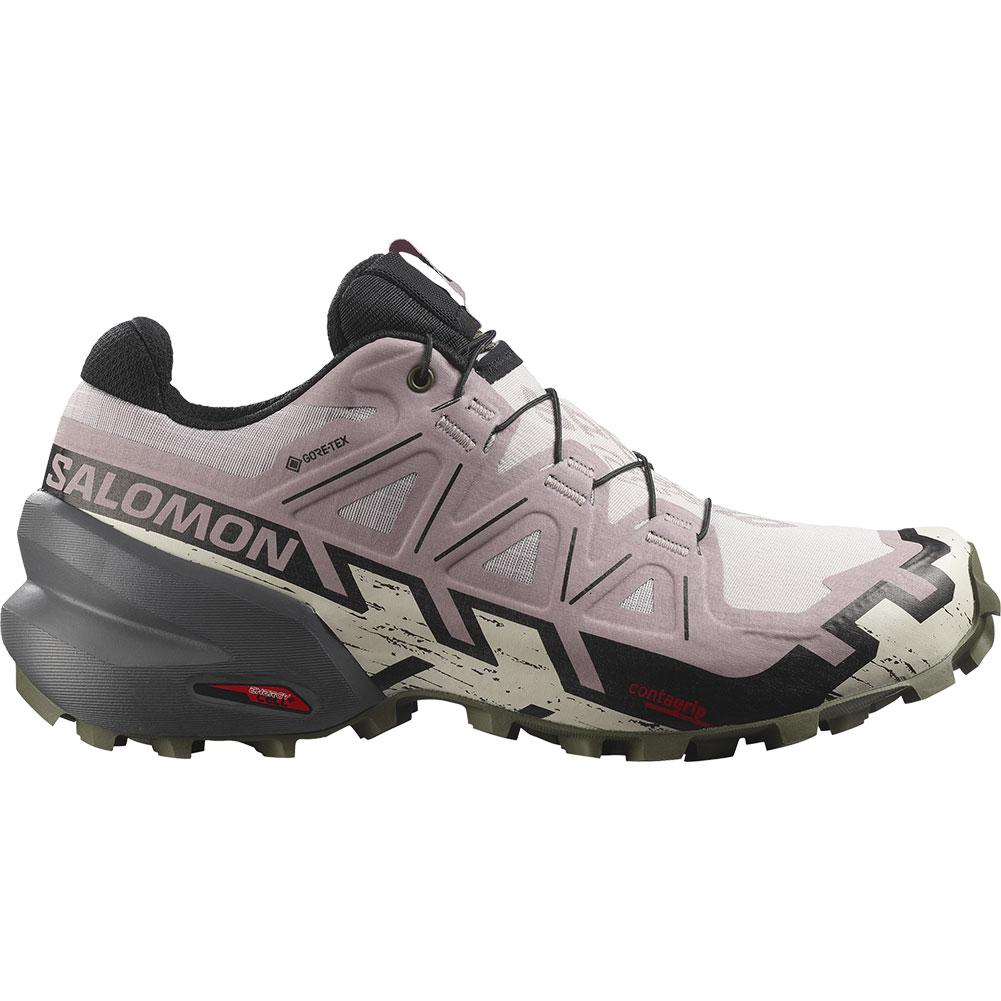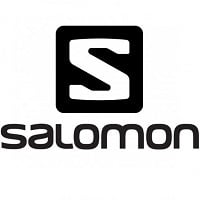 SALOMON
Salomon Speedcross 6 GTX Trail Running Shoes Women's
Item#: L41743600
Availability : In-Stock
SPEEDCROSS 6 GORE-TEX needs no introductions. True to its legendary roots and trail icon status, this version is lighter with an even more powerful, grippy connection to the ground and faster mud evacuation. Featuring a waterproof and breathable Gore-Tex membrane ideal for wet and muddy conditions, a revamped upper and classic SPEEDCROSS comfort.
Cushion: REGULAR
Foot protection: LIGHT
Foot support: NEUTRAL
Frequency per week: ONCE OR LESS | 2-3 TIMES |4 TIMES OR MORE
Running terrain: MIXED TERRAIN | MUDDY & SOFT
Shoe width: STANDARD
BENEFITS:
Grip
An updated outsole means these Speedcross shed the mud quicker and deliver an even better grip on wet surfaces.
Fit
Featuring Sensifit construction for precise, optimal foothold, and classic Speedcross comfort.
Gore-Tex
A waterproof, and breathable Gore-Tex membrane to keep your feet dry and comfortable even in tough, muddy conditions.
Salomon Speedcross 6 GTX Trail Running Shoes Women's Features & Specifications:
OUTSOLE - Mud Contagrip®: Built for maximum grip on loose, soft, rugged, and uneven surfaces, Mud Contagrip® uses deep, sharp lugs made from a compound that focuses on adhesion.
MIDSOLE - EnergyCell™+: EnergyCell™+ is a high-rebound midsole compound that provides exceptional energy return along with substantial cushioning and durability.
MEMBRANE - GORE-TEX: GORE-TEX keeps your feet dry -from the outside as well as from the inside.
UPPER MATERIAL - Anti-debris Mesh: Tight mesh that prevents debris from being trapped between your foot and the footbed.
UPPER MATERIAL - Ripstop fabric: Woven fabrics, often made of nylon, with reinforcement to resist tearing, ripping and abrasion.
LACING SYSTEM - Quicklace™: Minimalistic and strong lace for one-pull tightening. Easy-on, easy-off.
SUSTAINABILITY - Recycled material: Materials made from recycled products such as PET bottles or material waste
Inlay sole: Textile
Lining: Textile
Outsole: Rubber
Upper: Synthetic / Textile
Drop: 10 in mm
Lug depth: 5 mm
Heel stack height: 33 mm
Forefoot stack height: 23 mm
Weight: 279 g
Lacing system: Quicklace®
Waterproofness: GORE-TEX
Salomon Speedcross 6 GTX Trail Running Shoes Women's Size Guide - Inch

| Order size | FOOT LENGTH (INCH) | UK | EUR | JP |
| --- | --- | --- | --- | --- |
| 5 W | 8,5 | 3.5 | 36 | 22 |
| 5.5 W | 8,7 | 4 | 36 2/3 | 22,5 |
| 6 W | 8,9 | 4.5 | 37 1/3 | 23 |
| 6.5 W | 9,1 | 5 | 38 | 23,5 |
| 7 W | 9,3 | 5.5 | 38 2/3 | 24 |
| 7.5 W | 9,4 | 6 | 39 1/3 | 24,5 |
| 8 W | 9,6 | 6.5 | 40 | 25 |
| 8.5 W | 9,8 | 7 | 40 2/3 | 25,5 |
| 9 W | 10 | 7.5 | 41 1/3 | 26 |
| 9.5 W | 10,2 | 8 | 42 | 26,5 |
| 10 W | 10,4 | 8.5 | 42 2/3 | 27 |
| 10.5 W | 10,6 | 9 | 43 1/3 | 27,5 |
| 11 W | 10,8 | 9.5 | 44 | 28 |
| 11.5 W | 11 | 10 | 44 2/3 | 28,5 |
| 12 W | 11,2 | 10.5 | 45 1/3 | 29 |
| 12.5 W | 11,4 | 11 | 46 | 29,5 |
| 13 W | 11,6 | 11.5 | 46 2/3 | 30 |
| 13.5 W | 11,8 | 12 | 47 1/3 | 30,5 |
| 14 W | 12 | 12.5 | 48 | 31 |
| 14.5 W | 12,2 | 13 | 48 2/3 | 31,5 |
| 15 W | 12,4 | 13.5 | 49 1/3 | 32 |
| 15.5 W | 12,6 | 14 | 50 | 32,5 |
| 16 W | 12,8 | 14.5 | 50 2/3 | 33 |
Sign up to Our Newsletter