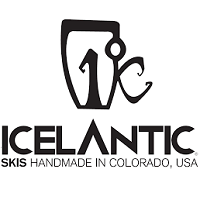 ICELANTIC
Icelantic Nia Pro 105 Skis 2023 Women's
Item#: NIA-PRO-105-W23
$849.00

$721.65

Up to 15% OFF
Availability : In-Stock
The Nia Pro was designed alongside the Saba Pro—Unlike other pro models out there, our Saba + Nia have been designed as part of collaborative effort with all of our athletes from around the world. They took on full creative control with shape, flex, artwork, and construction while designing the ski of their dreams.
The Saba + Nia feature Icelantic's Reflective Rocker profile. Reflective Rocker is a full rocker profile that mirrors the sidecut radius, creating a ski that is both playful and surfy when skiing flat, while still allowing the skier to engage the entire edge, providing the power to charge and carve the ski when needed. Designed with a long, gradual rocker profile and a balanced flex, the Saba and Nia are stiff enough to minimize chatter, while providing the skier a solid platform to stomp landings without wheeling out.
NOTE: *Base colors may vary.
Icelantic Nia Pro 105 Skis 2023 Women's Features & Specifications:
Profile: Rocker
All Mountain: 2/3
Big Mountain: 1/3
Powder: 3/3
Freeride: 3/3
Carve: 2/3
Park: 1/3
Icelantic Nia Pro 105 Skis 2023 Women's Size Chart
Length
162cm
169cm
177cm
Width
105mm
Profile
135-105-125mm
Radius
15m
17.5m
20m
Weight
3,286g
3,429g
3,900g
Tip Rocker
Full
Camber
0mm
Tail Rocker
Full
Behind The Art:
This year we are continuing to offer the Pro Collab Collection featuring the Saba Pro 107, Saba Pro 117, and Nia Pro 105. We maintained the theme of wildflowers for the Nia, highlighting the iconic sunflower. For the Saba, we continued to showcase sacred geometry combined with natural scenery. Both directions are decisions made by a collaboration between our men's and women's athlete teams, and artist Travis Parr.
Athlete Testimonial:
"This is the ski for women ready to get creative and playful on the mountain while also charging fast lines and catching air. I used this ski with various conditions at the resort and in the backcountry. 105 underfoot hits the sweet spot for width if you want a ski that can cross over from hard pack to fresh snow days. The stiff flex combined with the reflective rocker not only enables powerful carving and decreases chatter, but it also is a sure-fire design for stomping big airs without wheeling out." — Amy David, Icelantic Athlete
Sign up to Our Newsletter