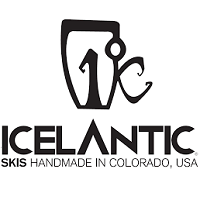 ICELANTIC
Icelantic Maiden 91 Skis 2023 Women's
Item#: MAIDEN-91-W23
$799.00

$679.15

Up to 15% OFF
Availability : In-Stock
The award-winning Maiden 91 is the most playful ski we make. By utilizing the shape and rocker profile of the top selling Maiden 101 and slimming it up a bit, the Maiden 91 is a nimble, quick and poppy freeride ski. The narrower waist makes the Maiden 91 a great park ski but still gives you the necessary performance to confidently ski in any condition the mountain provides. The Freeride series features our Hybrid Flight Core consisting of poplar and paulownia wood, making the collection lighter and more poppy—allowing you to effortlessly play all over the mountain. If you are looking for a lightweight ski that is easy to maneuver and allows you to play all over the mountain, the Maiden 91 is the ski for you.
NOTE: *Base colors may vary.
Icelantic Maiden 91 Skis 2023 Women's Features & Specifications:
Profile: Rocker | Camber | Rocker
All Mountain: 2/3
Big Mountain: 1/3
Powder: 2/3
Freeride: 3/3
Carve: 1/3
Park: 3/3
Icelantic Maiden 91 Skis 2023 Women's Size Chart
Length
155cm
162cm
169cm
Width
91mm
Profile
126-91-116mm
Radius
13m
14.5m
16m
Weight
2,896g
3,086g
3,710g
Tip Rocker
36cm
Camber
2mm
Tail Rocker
31cm
Behind The Art:
This year's Freeride Collection takes on the theme of transformation and rebirth. Every day, all around us, nature goes through cycles of renewal — whether it be through the changing color of the leaves in the fall, new flowers budding each spring, or the myriad of new species that are brought into the world every day. Rebirth and transformation are a crucial component in nature, and are honored in this year's Nomad and Maiden Freeride Collections. The Freeride Collection is our storytelling & theme-driven artwork from Travis Parr this season.
Athlete Testimonial:
"I love the Maiden 91s because they are both fun and reliable through all types of terrain. I especially notice their stability when I am charging fast and landing hard. With the perfect amount of rocker in the skis, the Maiden 91s help me pop and ski switch with confidence!" — Jess Rubino, Icelantic Athlete
Sign up to Our Newsletter