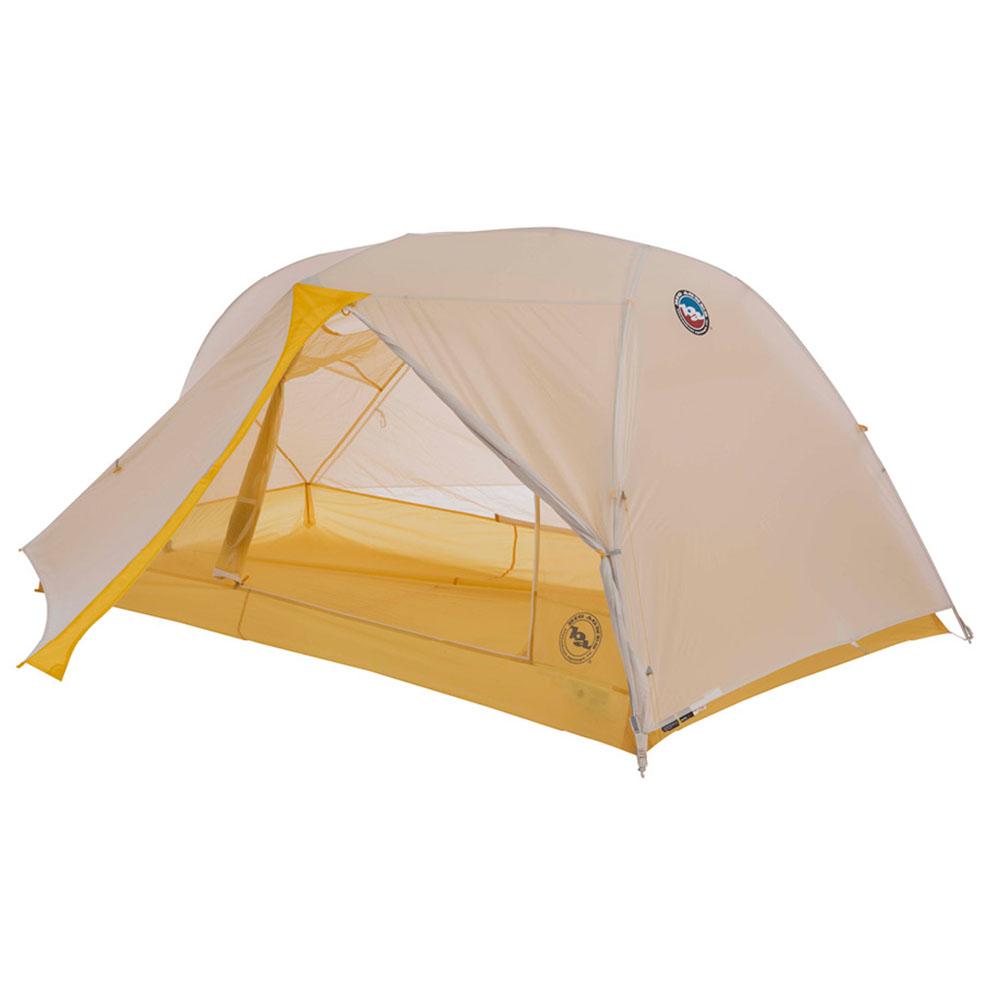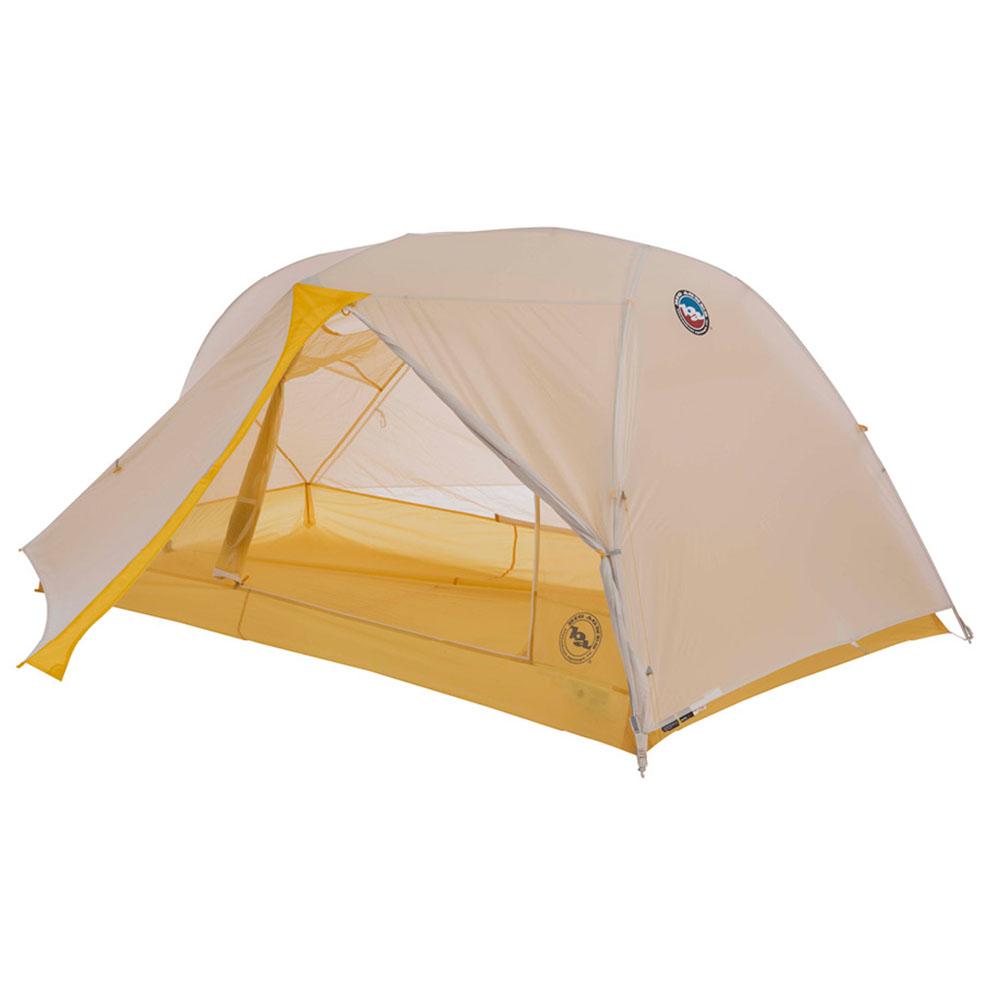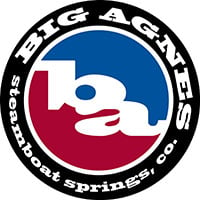 BIG AGNES
Big Agnes Tiger Wall UL2 Solution Dye Tent
Item#: TTWUL221
Availability : In-Stock
The Tiger Wall UL2 Tent is our lightest two door, two vestibule, technical backcountry tents now redesigned using solution-dyed fabric that is highly resistant to UV fade and drastically reduces energy consumption and water use during manufacturing, a process that is better for the environment and improves the quality of the tent fabric. Single pole architecture using DAC Featherlite materials create a simple, yet strong and sturdy structure you can rely on through multi-day trips. The Tiger Wall UL2 makes tent life easy with weight savings for gram counters in mind for your three-season adventures.
Big Agnes Tiger Wall UL2 Solution Dye Tent Tent Features & Specifications:
Solution-dyed fabric is highly resistant to UV fade and drastically reduces energy consumption and water use during manufacturing, a process that is better for the environment and improves the quality of the tent fabric
Features two doors, two vestibules with storm flaps on all vestibule zippers
Simplified setup with proprietary tent corner construction and unique TipLok Tent Buckle™ that combines three functions: secure pole-tip capture, rainfly attachment and tensioner, and stake-out loop
Easy and efficient setup and take down with the strong DAC Featherlite single pole system structure
Elevated storage with a 3D bin 'mezzanine' in the foot and additional storage in the ceiling and door pockets at the head
Clean earbud-cord routing from phones or other devices through media pockets located above sleeping area
Keep interior dry with dual zipper, smooth-closing, dry entry/exit vestibule
More usable space between your feet and tent wall with structured foot-end corners
Increased airflow with low vent feature on the vestibule doors and double sliders on the vestibule zippers for venting from the top or bottom
Ready to pitch with pre-cut guy lines and tensioners attached to fly, and extra stability with Velcro® tabs that connect fly to pole structure
Easy to pitch any time of day with reflective guylines and color-coded webbing on tent corners
Includes lighter, yet stronger Dirt Dagger UL Tent Stakes with patent pending I-Beam aluminum construction
To extend the life of your tent floor we recommend using a Big Agnes footprint, sold separately
Compatible with Tiger Wall UL2 footprint featuring Tiplok™ Tent Buckles.
Materials
Fly and floor: solution-dyed water-repellent silicone treated nylon ripstop with a 1200mm water-resistant, polyurethane coating
Tent body: solution-dyed nylon ripstop breathable and polyester mesh
Waterproof, solvent-free polyurethane taped seams (No PVC or VOCs)
DAC Featherlite NFL pole system and hub pole design
Gear lofts, sold separately: UL3 fits Triangle, Large Trapezoid and Wall gear lofts
Fast fly setup available
6" Dirt Dagger™ UL Stakes included: 9
CARE
Storage: Always make sure your tent is dry and free of debris before storing. Fold and roll your tent a different way each time to avoid permanent creases. Store in a cool, dry place. Never leave your tent in hot temperatures (such as a car trunk or attic space) for long periods of time, as it will damage the material coatings. Storing your tent damp can result in mildew growth, which may cause your tent to smell, leak, or delaminate. Mildew damage is not covered under warranty.
Cleaning:
For light cleaning, sponge the product with warm water (not hot).
For more thorough cleaning you will need:
-Wash basin (or bath tub)-Warm water (not hot)
-Waterproof Gear Cleaner (we recommend products like Nikwax Tech Wash)
-Sponge
1. Submerge your gear in warm, clean water. Gently agitate with hands. Empty dirty water. Repeat until most of the excess dirt/grime is removed and water is mostly clear.
2. Apply waterproof gear specific wash and gently work into fabric with sponge.
3. Rinse gear thoroughly.
4. Hang it up to dry.
5. Triple check that your gear is completely dry before storage or use.
*Do not dry clean or machine-wash. Detergents and dry cleaning solvents will damage the fabric and ruin waterproofing.
*Never use hot water, bleach, liquid detergents, or dishwashing liquids.
*Allow to dry COMPLETELY before storage or use.
*Avoid prolonged direct sunlight as UV exposure can compromise waterproofing.
Seam Sealing: Big Agnes tents are seam sealed as part of our manufacturing process! This seam tape alone is durable enough to prevent water leakage. Any seams that have been taped do not need to be seam sealed with a liquid sealer unless you want extra protection. Make sure the seam-sealer is completely dry before re-packing your tent. Damage caused by misapplication may void warranty.
Zippers: Keeping your zippers clean will help keep the coils and sliders from wearing out. If filled with dirt, vacuum or brush zippers before storing tent. We recommend Gear Aid Zipper Cleaner and Lubricant.
Repairs and Warranty: All Big Agnes tents are guaranteed against manufacturing or material defect. We do not warranty products damaged from normal wear and tear, alteration made by owner, misuse, accidents or damages caused by uses other than intended. Damage due to misuse, normal wear and tear, or improper care may be repaired, at the discretion of Big Agnes, at a reasonable charge. Tents returned for repair must be clean and free of debris.
Sign up to Our Newsletter