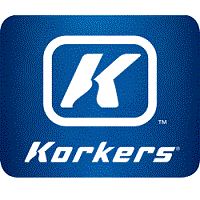 KORKERS
Korkers Ice Walker Ice Cleats
Item#: OA9100
Availability : In-Stock
Provides lightweight, ice-biting traction. The BOA® cable is comprised of 49 individual strands of high-strength aircraft grade stainless steel cable. Capable of lifting a 300 pound pallet of bricks, in case you were wondering.
Korkers Ice Walker Ice Cleats Features:
Traction 22: replaceable pushthrough steel spikes for gripping traction in icy, snowy conditions. This lightweight, packable design is the perfect solution for winter walks and general use.
Fit Boa-fit: Dial in the perfect fit, and easily adjust on the fly when needed. The BOA® L6 lacing system wraps from all angles to create a fluid, form-fit and is designed to work best on low-to-mid volume shoes.
Packable: This mighty solution neatly compresses for easy storage.
Durability Guaranteed: The BOA® components are guaranteed for life and the cleat system is backed by Korkers Rock Solid Guarantee. Rest assured, this product is made to last no matter where your adventure may take you.
10oz per pair.
Sign up to Our Newsletter