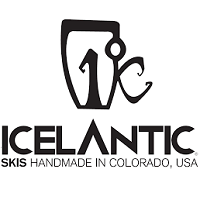 ICELANTIC
Icelantic Riveter 85 Skis 2023 Women's
Item#: RIVETER-85-W23
$699.00

$594.15

Up to 15% OFF
Availability : In-Stock
For the 22/23 season we have maintained the modified shape of the Riveter 85 of last season, reducing the rocker in the tail to give the Riveter more directional aesthetic and better all-mountain performance. The Riveter 85's tapered shape combined with 5mm of camber underfoot creates a ski that excels all over the mountain. The Riveter all-mountain collection was designed to provide skis that could serve as a true one-ski quiver—At 85mm underfoot, the Riveter 85 is an excellent choice for a more manageable front-side ski. If you are a woman looking for a ski that is versatile enough to handle any condition that the mountain provides, the Riveter is the ski for you!
NOTE: *Base colors may vary.
Icelantic Riveter 85 Skis 2023 Women's Features & Specifications:
Profile: Rocker | Camber | Rocker
All Mountain: 3/3
Big Mountain: 1/3
Powder: 1/3
Freeride: 1/3
Carve: 3/3
Park: 1/3
Icelantic Riveter 85 Skis 2023 Women's Size Chart
Length
150cm
155cm
162cm
169cm
Width
85mm
Profile
120-85-107mm
Radius
12m
13m
14.5m
16m
Weight
2,617g
2,856g
2,899g
2,877g
Tip Rocker
31cm
Camber
5mm
Tail Rocker
21cm
Behind The Art:
Our All-Mountain Collections are an evolving aesthetic of wood and mountain themes, while this year, adding stunning pops of bold color reminiscent of the Northern Lights and other natural phenomena.
Sign up to Our Newsletter