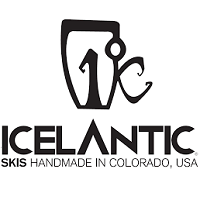 ICELANTIC
Icelantic Nomad 105 Skis 2023
Item#: NOMAD-105-W23
$849.00

$721.65

Up to 15% OFF
Availability : In-Stock
The award-winning Nomad 105 is Icelantic's flagship model, best-selling ski, and the foundation of the Nomad Freeride Collection. Its 105mm platform and bombproof construction allow for great floatation and stability all over the mountain. The Freeride series features our Hybrid Flight Core consisting of poplar and paulownia wood, making the collection lighter and more poppy—allowing you to effortlessly play all over the mountain. This energetic freeride tool is best described as playful, surfy and most importantly: fun. Go ahead, see what everyone has been talking about and get on a pair.
NOTE: *Base colors may vary.
Icelantic Nomad 105 Skis 2023 Features & Specifications:
Profile: Rocker | Camber | Rocker
All Mountain: 3/3
Big Mountain: 2/3
Powder: 3/3
Freeride: 3/3
Carve: 2/3
Park: 1/3
Icelantic Nomad 105 Skis 2023 Size Chart
Length
161cm
171cm
176cm
181cm
186cm
191cm
Width
105mm
Profile
140-105-130mm
Radius
13m
16m
17m
19m
20m
22m
Weight
3,459g
3,617g
3,727g
3,838g
4,043g
4,248g
Tip Rocker
36cm
Camber
2mm
Tail Rocker
31cm
Behind The Art:
This year's Freeride Collection takes on the theme of transformation and rebirth. Every day, all around us, nature goes through cycles of renewal — whether it be through the changing color of the leaves in the fall, new flowers budding each spring, or the myriad of new species that are brought into the world every day. Rebirth and transformation are a crucial component in nature, and are honored in this year's Nomad and Maiden Freeride Collections. The Freeride Collection is our storytelling & theme-driven artwork from Travis Parr this season.
Athlete Testimonial:
"A true multi-tool that actually does not sacrifice performance in any of it's functions even though it's meant to be versatile and do everything. If I were forced to choose one ski, and only one ski for the rest of my life instead of having a quiver, I would 100% choose the Nomad 105." — Icelantic Athlete, Scotty VerMerris
Sign up to Our Newsletter