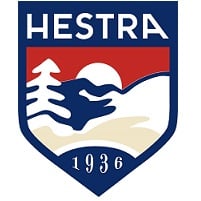 HESTRA
Hestra Heli Mitts Women's
Item#: 30611
Availability : In-Stock
The women's model of Hestra's classic Heli Ski glove has a narrower cut and fit for women's hands. A long, practical 3-finger ski glove for those seeking powder snow who want a reliable companion on the mountain. Its removable liner makes it easy to adapt to different temperatures and activity levels.
Hestra's Army Leather Heli Ski was originally created for ski guides in western Canada who needed a reliable and warm ski glove for long, cold days in the snow. This women's mitten has a narrower cut to fit women's narrower hands. Like all mitten versions, it provides plenty of space for the fingers, making it warmer than the equivalent glove. The outer glove is sewn in a hardwearing, weather-resistant combination of goatskin leather and 3-layer polyamide fabric. A range of smart functions come in handy when you can't head indoors to warm up that often. For example, the liner is easy to remove and dry, or replace with a thinner inner glove when you're being more active and hiking uphill. In powder snow, the long cuff with snowlock and wrist adjustment keep the snow on the outside and the warmth on the inside. A wrist strap reduces the risk of dropping a glove if you take it off to adjust your equipment or use your phone. And the included carabiner means you can hang the glove up with its opening facing downwards – practical while you're wearing just a thinner liner and want to avoid your gloves filling up with snow. A durable, flexible companion for skiers that spend a lot of time outdoors and who often find themselves far from the ski resort and its comforts. Also available in 3-finger and 5-finger models.
Hestra Heli Mitts Women's Features & Specifications:
COLLECTION: Alpine Pro
PRODUCT ORIGIN: Guangdong, China
ACTIVITIES: Skiing | Ski touring | Snowboard
DETAILS: Carabiner | Elastic at wrist | Handcuffs | Removable lining | Snow lock | Wrist strap with velcro closure | WINDPROOF
INSULATION: G-Loft
ATTACHED LINING: Bemberg
REMOVABLE LINING: Included Liners | Compatible Liners
OUTER MATERIAL: Hestra triton polyamide fabric | Goat leather
Long, durable mitts.
Backhand made of waterproof and breathable 3-layer polyamide fabric.
Impregnated goat leather on the palm and fingers.
Removable fleece liner (Bemberg) with polyester insulation (G-loft).
Curved fit that provides comfort and solid grip.
Snowlock with drawstring adjustment.
Velcro wrist adjustment.
Wrist strap/handcuffs included.
Carabiner and eyelet provide good attachment possibilities.
Can be combined with other liners."
Sign up to Our Newsletter