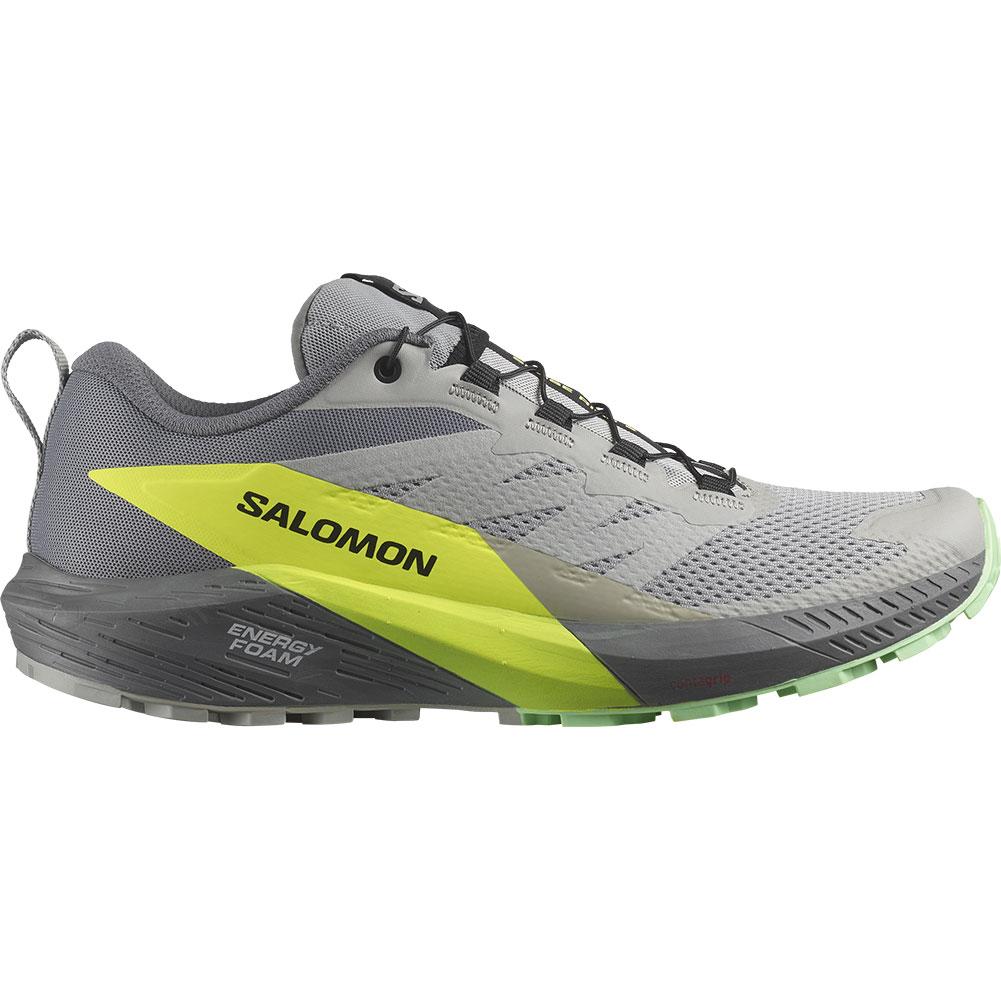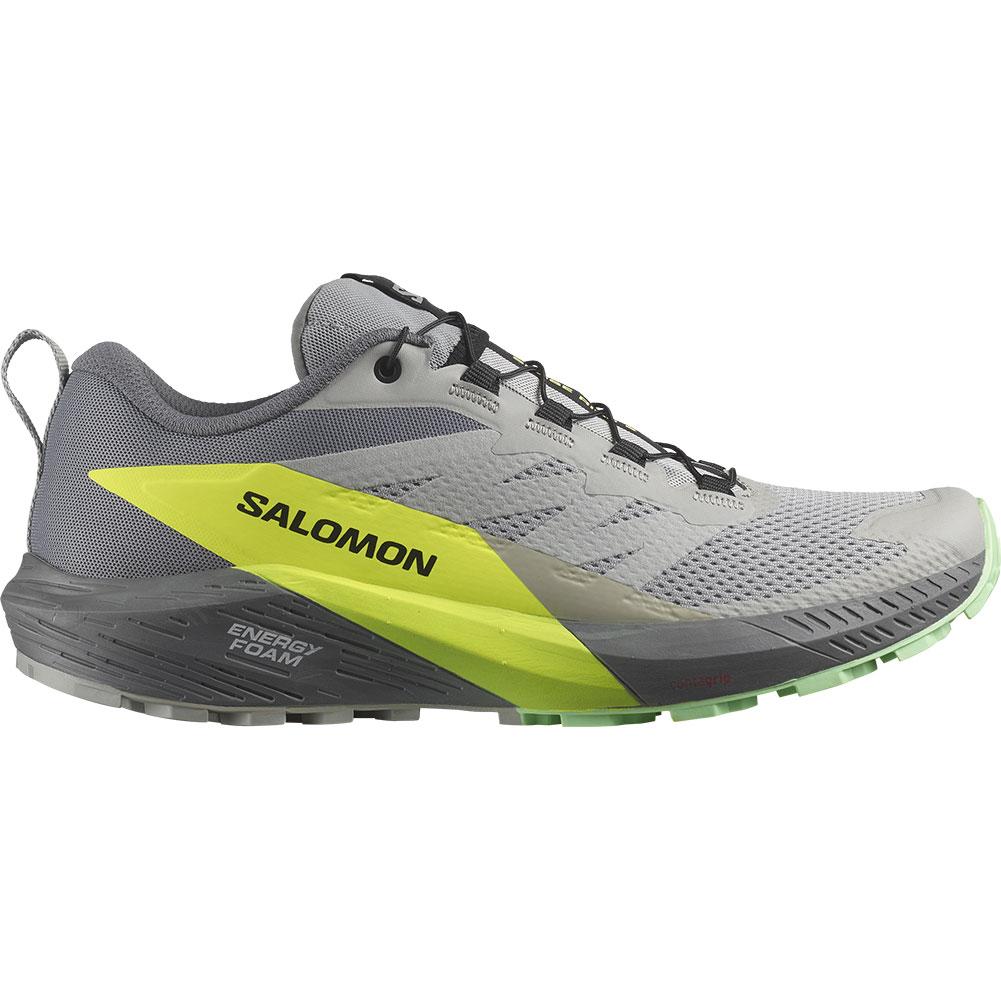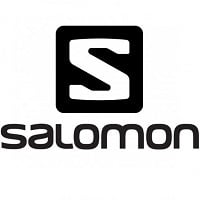 SALOMON
Salomon Sense Ride 5 Trail Running Shoes Men's
Item#: I3121
Availability : In-Stock
A versatile trail shoe that does it all, the SENSE RIDE 5 is equally in its element on short, fast trail runs as on ultra distances. A super comfortable overachiever that easily adapts to a variety of terrains, with a balanced midsole for cushioning, response and an engineered mesh upper with Sensifit for just the right amount of comfortable hold.
Cushion: MAXIMUM
Foot protection: LIGHT
Frequency per week: ONCE OR LESS | 2-3 TIMES | 4 TIMES OR MORE
Running terrain: MIXED TERRAIN
Shoe width: STANDARD
BENEFITS:
Cushioning and Response
Our Energy Save midsole gives just the right balance of plush cushioning and adapted response.
Versatile Grip
Developed using All Terrain Contagrip®, for adhesion and confidence on the widest variety of surfaces.
Lightweight Upper
A lightweight, flexible, and durable 3D mesh upper provides optimized and comfortable foothold.
Salomon Sense Ride 5 Trail Running Shoes Men's Features & Specifications:
OUTSOLE - All Terrain Contagrip®: Our All Terrain Contagrip® is built for the widest variety of surfaces. It delivers durability & confidence on wet, dry, hard or loose surfaces.
MIDSOLE - Energy Foam: Lightweight, responsive foam created by combining EVA and Olefin [OBC] to deliver long-lasting cushion and bouncy energy return.
UPPER CONSTRUCTION - SensiFit™: SensiFit™ cradles the foot from the midsole to the lacing system, providing a secure, snug, and virtually customized fit all around the foot.
MIDSOLE - Profeel Film: Profeel Film gives your stride a smoother and more stable feel by acting as a filter between you and the terrain.
UPPER MATERIAL - Engineered Mesh: Engineered mesh is a structure that varies the weave to offer more support and durability or flexibility and breathability, according to the specific needs of the shoe.
Inlay sole: Textile
Lining: Textile
Outsole: Rubber
Upper: Textile / Synthetic
Drop: 8 in mm
Lug depth: 3,5 mm
Heel stack height: 29.6 mm
Forefoot stack height: 21.3 mm
Weight: 286 g
Lacing system: Quicklace®
Waterproofness: None
Salomon Sense Ride 5 Trail Running Shoes Men's Size Guide - Inch

| Order size | FOOT LENGTH (INCH) | UK | EUR | JP |
| --- | --- | --- | --- | --- |
| 4M | 8,5 | 3.5 | 36 | 22 |
| 4.5 M | 8,7 | 4 | 36 2/3 | 22,5 |
| 5 M | 8,9 | 4.5 | 37 1/3 | 23 |
| 5.5 M | 9,1 | 5 | 38 | 23,5 |
| 6 M | 9,3 | 5.5 | 38 2/3 | 24 |
| 6.5 M | 9,4 | 6 | 39 1/3 | 24,5 |
| 7 M | 9,6 | 6.5 | 40 | 25 |
| 7.5 M | 9,8 | 7 | 40 2/3 | 25,5 |
| 8 M | 10 | 7.5 | 41 1/3 | 26 |
| 8.5 M | 10,2 | 8 | 42 | 26,5 |
| 9 M | 10,4 | 8.5 | 42 2/3 | 27 |
| 9.5 M | 10,6 | 9 | 43 1/3 | 27,5 |
| 10 M | 10,8 | 9.5 | 44 | 28 |
| 10.5 M | 11 | 10 | 44 2/3 | 28,5 |
| 11 M | 11,2 | 10.5 | 45 1/3 | 29 |
| 11.5 M | 11,4 | 11 | 46 | 29,5 |
| 12 M | 11,6 | 11.5 | 46 2/3 | 30 |
| 12.5 M | 11,8 | 12 | 47 1/3 | 30,5 |
| 13 M | 12 | 12.5 | 48 | 31 |
| 13.5 M | 12,2 | 13 | 48 2/3 | 31,5 |
| 14 M | 12,4 | 13.5 | 49 1/3 | 32 |
| 14.5 M | 12,6 | 14 | 50 | 32,5 |
| 15 M | 12,8 | 14.5 | 50 2/3 | 33 |
Sign up to Our Newsletter