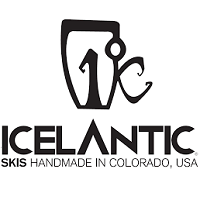 ICELANTIC
Icelantic Nomad 95 Skis 2023
Item#: NOMAD-95-W23
$799.00

$679.15

Up to 15% OFF
Availability : In-Stock
The award-winning Nomad 95 is the narrowest option in the Nomad Freeride Collection. Its 95mm platform, rockered tip and tail and 2mm of camber underfoot, gives you true versatility all over the mountain. The Freeride series features our Hybrid Flight Core consisting of poplar and paulownia wood, making the collection lighter and more poppy—allowing you to effortlessly play all over the mountain. If you are looking for a playful ski that performs from the park to the peak, then the Nomad 95 is the ski for you!
NOTE: *Base colors may vary.
Icelantic Nomad 95 Skis 2023 Features & Specifications:
Profile: Rocker | Camber | Rocker
All Mountain: 2/3
Big Mountain: 1/3
Powder: 2/3
Freeride: 3/3
Carve: 1/3
Park: 3/3
Icelantic Nomad 95 Skis 2023 Size Chart
Length
161cm
171cm
176cm
181cm
186cm
191cm
Width
95mm
Profile
130-95-120mm
Radius
13m
16m
17m
19m
20m
22m
Weight
2,942g
3,079g
3,216g
3,402g
3,588g
3,774g
Tip Rocker
36cm
Camber
2mm
Tail Rocker
31cm
Behind The Art:
This year's Freeride Collection takes on the theme of transformation and rebirth. Every day, all around us, nature goes through cycles of renewal — whether it be through the changing color of the leaves in the fall, new flowers budding each spring, or the myriad of new species that are brought into the world every day. Rebirth and transformation are a crucial component in nature, and are honored in this year's Nomad and Maiden Freeride Collections. The Freeride Collection is our storytelling & theme-driven artwork from Travis Parr this season.
Athlete Testimonial:
"The nomad 95 is the ski I use 95% of the time, whether its in the street, park, groomers, or my favorite—spring slush—it has never let me down. I spend a majority of the winter sliding untraditional surfaces like brick, concrete, and metal rails in -12 degree weather. The edges hold up like a champ and never break down or prematurely wear. The shape and construction allow for easy butters and playful jobbing, while still holding strong on larger kickers and drops in the park. As all Icelantic's are, I can attest these truly are bomb-proof after using them for over 7 years." — Icelantic Athlete Calvin Barrett
Sign up to Our Newsletter